Links 2003 v1.07
---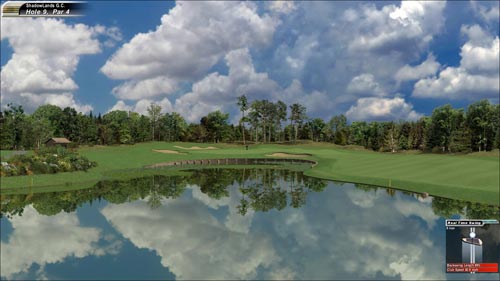 The Links 2003 v1.07 Update includes all previous updates including v1.02 and v1.05. Changes are listed below.

Note: If you currently use Career Mode, installing this update for Links 2003 will overwrite the standard seasons (Season 1, Season 2, and Season 3) and the rosters. Doing so will require you to start a new career. Version 1.05 of Links 2003 introduced some significant changes. Most of those changes have affected Career Mode. You will need to start a new career in order to take advantage of new features. You are strongly recommended to delete your old career mode files and start fresh. Career Mode files are located in My DocumentsLinks 2003Career.

Download Now (33MB)
Career Mode Update for v1.07
Download this file into your Links 2003 folder overwriting the old one. This fixes a Career Mode bug introduced in the v1.07 update.

Download Now (452KB)
---
Installation Instructions for Links 2003 v1.07

Download 'Links2k3_107_Final.exe' to a location you'll remember, such as your Desktop
Open My Computer and browse to the location where 'Links2k3_107_Final.exe' was downloaded to
Select 'Links2k3_107_Final.exe' and click Open
Click OK to start the installation process.

---
Changes in Links 2003 v1.07 Update (Including v1.05 changes)
Changes as of 06/19/2008
Widescreen support has been added including HD resolutions
Integration of MOD (v1.06) settings now known as Challenging conditions.
New Gusty wind option
Ability to use a course designer's physics for a particular course instead of the normal conditions.
Custom tees are now available. You can determine which tees you want to use on each hole
Ability to use custom clubs. New club models have been included in this patch
Microsoft has removed support for the in-game MatchMaker so support for Direct Connection has been turned on for LTS/LTF and the Links Tour(LSPN).
Introduction of LTF Tournaments for offline tour operators.
Added an option of allowing or disallowing chipping on the green
Fixed a problem in Links Tour (LSPN) events where alternate courses were not found properly
Fixed a few other bugs in the game that were found while working on the update.
Changes as of 01/21/2005
Career Mode winnings from Invitationals was not being recorded in the player history
Career Mode player history stats could become mixed up if you golfed with an AI player
Made round settings editable in Career Mode without having to restart a career
Fixed a Career Mode scoring problem where scores could become repetitive again
Turned on playoffs for Match/Skin play in Career Mode
Fixed end of round crash when playing Match play after viewing scorecard
Fixed AI golfer's left handed play out of the sand
Fixed computer player ability points in verify files
Allow Match play rounds to be verified even if all 18 holes are not played
Added game version to score.txt
Added an option to turn off the Dynamic Cam when on the green
Added an option to view your scorecard at the end of a practice round
Fixed typo in videocard.txt that was the result of the v1.05 BETA Patch
Got rid of Show MOPs Only from Rendering Message options. It wasn't doing anything as MOP messages are always shown.
The install will now ask if you want to overwrite career mode files, videocard.txt, and predefined.ssf
Changes as of 11/04/2004
Career Mode
Adjust virtual players to attain more realistic scores as course conditions and players confidence levels change.
Fixed problem where virtual players' scores are too consistent.
Assign golfer models to virtual players or make them lefties.
Fixed a problem where golfer models for a virtual player would change from tourney to tourney.
Make seasons 12, 24, 36, or 48 weeks long.
Assign a custom purse amount to a tourney.
See your overall tournament score in the player info instead of always starting at even.
Added randomize button to pin positions box to help quicken tourney setup.
Allow all installed courses to be used when using Auto-Generate in Season Manager. Currently only the six standard courses are allowed.
added customizable pressure settings to career mode rosters
Added ability to set player photo in career mode rosters
Changed the way strokes are distributed to roster players in Career Mode so they don't get birdies in a row for instance.
Career Mode roster scores are more realistic including players getting overs and unders throughout the round
Added season history so you can see how much money you earned and what your ranking was (Note: This info isn't available in 1.02 histories. It will only be seen after playing in a new career with the patch)
Fixed problem in CM where you would start at round 1's tees each time
Fixed problem in Match Play for CM - rounds wouldn't end early if either player couldn't win
Career Mode target values are now randomly changed by up to 3 strokes to introduce more variance in scores
Fixed player history showing won $0 for some tourneys
Multiplayer
Fixed chat problem where text was erased after the post shot panel.
Fixed a problem where a remote player's club wouldn't change so the local player would see the remote player swing with the wrong club.
Fixed a problem where the local player would not see a remote player's swing if the remote player changed to putt when initially starting with a straight swing.
Plugged shots wouldn't show as plugged on remote machines.
Fixed Alt-Shot drop bug causing team members to drop from the wrong spot
Modes of Play (MOP)
Fixed the end of round crash when using certain MOPs.
In match play, 'End the round when a winner is determined' wasn't remembered from round to round and therefore wouldn't end the round early.
Alt-Shot drop bug where a player could end up at the wrong drop point
Deep Grass is now recognized as Rough instead of not recognized at all
Email Tourney
Custom pins in email tournaments get reset back to previous custom pin positions.
Fixed end of round 'course record' email tourney crash (Heap Stack)
Fixed online email tourneys pin positions get reset to 0
Computer Golfer
AI golfers would sometimes rotate to the side or backwards but still hit the ball towards the pin.
AI golfer's club wasn't being displayed correctly.
Added intelligent AI dropping
Course Stats
Stats weren't being kept for some courses due to long course names. Bighorn (2003) is one example of that.

Interface
Option to turn off interface music.
Changed Alt+V hotkey to include Close-up view in the rotation.
Added main view option to golfer settings (panoramic except when close to pin show close-up view).
Made Rendering Messages an option.- Show None, Show ALL, Show New Records only, Show MOP Messages Only

Swing
In RTS, if you select pick or explode then go into advanced shot setup, your hit type would reset back to straight.
Added option to disable short swing meter.

Verify Files
Putting Assistant shows used in verify files when it has not been used. It even shows used when playing in Champ mode when the PA is not available.
Custom pins in email tournaments get reset back to previous custom pin positions.
Swing showed up as PowerStrokeReal Time Swing in verify files when using PowerStroke.
Added game version to verify files
Added computer player ability points to verify files

Sound
Background ambient sounds weren't playing on older courses.
Added option in sound script editor for hole specific events.
Sounds that were set for 100 playing percentage weren't always being played.
Flag sound wasn't playing.
Added missing terrain types to sound script editor.
Fixed windows sound reset to stereo problem

Other
Plugged shots would become unplugged after a mulligan.
Added randomize and set all options to the custom pin dialog
Specials!
---
Add items to your cart to see the discounts
Pro Shop Deals
Get the Links 2003 Combo Pack and all 47 add-on courses for $14.95!

Add this Deal Now!


Already have Links 2003? Get all 47 add-on courses for only $12.00

Add all 47 Courses Now!


Links 2003 Combo Pack Only$8.49

Add it Now!


Buy two or more single add-on course for $1.25 each
---