Arnold Palmer Course Designer
---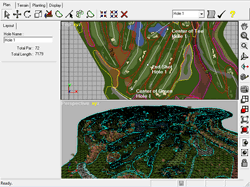 PC golfers can now re-create their home courses with the Arnold Palmer Course Designer (APCD).
More than a toy for entry-level builders, the APCD provides users with the power and versatility to accurately re-create their home course in a powerful real-time 3-D system. Players can tweak every inch of fairway with the APCD and create tunnels and arches with full control over each point on the course. A robust library of trees, shrubs and other vegetation allows players to sort for the climate and season that fit their home course, or they can import their own custom trees.

Download Now
(205MB)
Installation Instructions

Download the APCD above to your hard drive. (Remember where the folder you download to)
Open My Computer and browse to the folder where you downloaded APCD1_5.exe into.
Double click APCD1_5.exe to start the installer.
Follow the on-screen instructions
---

Course Locker
The APCD Course Locker utility is a safeguard feature that lets you prevent others from editing an APCD course.

Download Now
(178KB)
---
APCD v1.1 Update (For the Links 2001 APCD v1.0)
The APCD Update v1.1 adds new features and fixes several issues with the Arnold Palmer Course Designer. Added features include Terrain Painter, Game Cam, Hole Preview, the ability to import elevation data, and much more. For more information on all of the added features and fixes, please view the README included.

Download Now
(1.5MB)
Specials!
---
Add items to your cart to see the discounts
Pro Shop Deals
Get the Links 2003 Combo Pack and all 47 add-on courses for $14.95!

Add this Deal Now!


Already have Links 2003? Get all 47 add-on courses for only $12.00

Add all 47 Courses Now!


Links 2003 Combo Pack Only$8.49

Add it Now!


Buy two or more single add-on course for $1.25 each
---